Some coins never go out of style, and the Morgan dollar is a prime example of that. Since its initial run in 1878, the Morgan dollar has never been forgotten to the point of constant reruns in order to appease dedicated coin collectors. But why should you care about the Morgan dollar, and how can Covina Coin help you enhance your coin collection with these sought-after coins?
The Morgan Dollar Explained
Although "Morgan dollar" is the proper term, these coins are also commonly referred to simply as the silver dollar. No matter what you call it, this coin has made a reputation for itself over the past century due to its rare yet simple nature.
The Composition
At first glance, you won't notice anything too extravagant about the Morgan dollar. It's silver and there's a head on the front. Other than its larger size, there's not much on the surface that makes it look too distinct. But when you inquire about the actual composition, you'll find out that the silver dollar really contains a lot of silver. The original coins contained 90% silver which is still impressive, but the newer 2021 print contains 99.9% pure silver as a treat to collectors everywhere which is why we proudly distribute them at Covina Coin.
The Value
Since the original Morgan dollar ran for nearly three decades (1878-1904) and once more in 1921, the possible values are nearly endless. Each year already constitutes a major factor, but each year also contains 5 variations each representing 5 different minting locations. Considering this, there are roughly 140 versions available and that's not even factoring in the condition of the individual coin. That being said, the value of a particular Morgan dollar can range anywhere from $40 to over a thousand. But if you're looking for one of the newer prints from 2021 and after, they typically run around $85 each.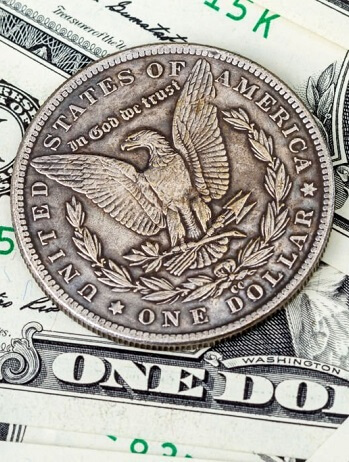 | Mint Mark | Location |
| --- | --- |
| S | San Francisco |
| D | Denver |
| O | New Orleans |
| CC | Carson City |
| No Mark | Philadelphia |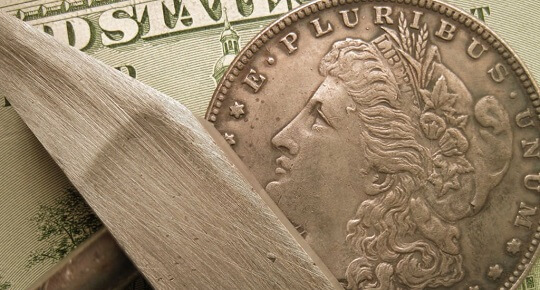 Come to Covina Coin For Morgan Dollars!
The best advice we can give you when it comes to buying Morgan dollars is to do business with experts who know the coin trade. Collectors in Covina, West Covina, and Glendora will find such experts at Covina Coin where we gladly buy and sell Morgan dollars of all kinds. Being the certified coin dealers that we are, you'll never have to worry about getting an unfair deal or acquiring a bunk piece. We only distribute quality goods at reasonable prices. Give us a call at 626-915-0033 to ask about our current stock!